Brimsley and Reynolds stole viewers' hearts in 'Queen Charlotte: A Bridgerton Story,' and the two are more than deserving of a spin-off dedicated to their relationship. What would such a series entail?
Two love stories unfold concurrently throughout Queen Charlotte: A Bridgerton Story: the one between the primary protagonists and the secret romance between their chief secretaries, Brimsley and Reynolds. Brimsley reports to the Queen and Reynolds to the King; thus, they often wind up in the same location — with just fleeting moments to sneak away for a passionate rendezvous.
The series gives viewers bite-sized glimpses into the depths of their relationship. Thanks to the great chemistry between Sam Clemmett (Brimsley) and Freddie Dennis (Reynolds), the deep-seated love between the pair is immediately palpable. This relationship is more than just passionate. It's companionate. It's sometimes argumentative (as any healthy dynamic is). And, most importantly, it is oh-so-adorable. Yet, the end of Queen Charlotte: A Bridgerton Story leaves viewers wondering what happened to Reynolds. So, what happened to the pair in scenes unseen, and what is left to explore in a much-needed spin-off?
Spoiler warning for Queen Charlotte: A Bridgerton Story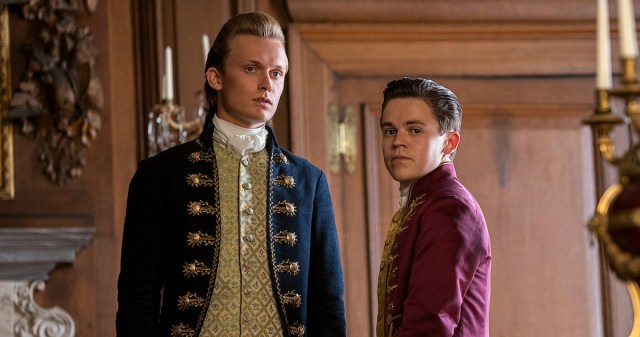 What happened to Reynolds in 'Queen Charlotte: A Bridgerton Story?'
In one of Queen Charlotte's final sequences, Brimsley and Reynolds are dancing together — far away from all the those attending the ball, so passersby won't notice. Yet, when the scene flashes forward, the older Brimsley is dancing alone (in one of the show's most heartbreaking moments). Many viewers jumped to the conclusion that Reynolds died; however, the actor behind the older version of Brimsley revealed some insider information to Vulture:
"He was the love of his life, and for whatever reason, they could not stay together. So when they would pass each other in the passageway in the deleted scene, it wasn't a toxic moment. Because of the world they inhabited, it was still a hangable offense to be gay, and it was just not possible."
It makes sense that Brimsley and Reynolds would have drifted apart at some point, as the risk of exposure could have led to death. But, with Reynolds alive and well, a spin-off remains on the table. 
Considering the Bridgerton universe (up until this point) has had little-to-no LGBTQ+ representation, a secret romance between Brimsley and Reynolds would help to right that wrong. Not to mention, it's easy to imagine a juicy and compelling narrative.
What would a Reynolds and Brimsley spin-off look like?
Imagine it: a picturesque London day before Queen Charlotte and King George are wed. The camera slowly zooms in on a forest from afar, making its way through the high-towering sycamores to finally stumble upon Brimsley and Reynolds (hiding away to steal a minute of intimacy). They talk. They kiss. They do a little more than kiss. And they travel their separate ways. 
In Queen Charlotte: A Bridgerton Story, it feels (though never narratively stated) as if these two have known each other for quite some time. Thus, starting this tale before the marriage of Queen Charlotte and King George would not be very far-fetched. Viewers would get to see pure bliss before all the stressors kick in. 
The story could then work its way to Queen Charlotte and King George's wedding. However, this time, the focus would be on Brimsley and Reynolds, highlighting how their occupational responsibilities continue to damage their relationship — chipping away at the trust they have built. What should be brief moments of bliss become banal moments of berating. Reynolds' secrets get to be too much. His silence deafening. Brimsley's trust in the Queen, and his dedication to her (no matter how impulsive her actions), becomes a thorn in Reynold's side.
Sometimes the most radiant love shines brightest in the dark. pic.twitter.com/LcULLr6uXM

— Bridgerton (@bridgerton) May 13, 2023
Yet, just as the Queen and the King solve their marital problems, Brimsley and Reynolds grow closer. This is where the story would extend past Queen Charlotte, as the spinoff would use the Queen Charlotte narrative as a backdrop to its rising action and climax. 
Soon enough, townsfolk grow suspicious of Brimsley and Reynold's intimacy. Why are they always together? They seem to stand just a little too close. They seem to stare just a little too long. The pair hear the whispers from the ton and the veiled threats from those in power.  And in this day and age, they're not looking to give the people something to talk about. 
Yet, more than the townsfolk's suspicions, their paranoia (justified as it may be) gets the best of them. They're afraid. Their relationship struggles, as they fear discovery. Remember: they could be sentenced to death for homosexuality. Love may be one of humankind's most powerful emotions, but the will to survive is pretty high on that list too…
Sam Clemmett and Freddie Dennis are lighting up the screen as the young Brimsley and Reynolds in #QueenCharlotte: A Bridgerton Story, but could they cut the mustard as real-life butlers? https://t.co/QwDtyvlHV1 pic.twitter.com/DBZEXdnGqu

— Tatler (@Tatlermagazine) May 11, 2023
Reynolds and Brimsley decide to go their separate ways to safeguard their futures (as well as protect the reputations of the King and Queen, who would undoubtedly be impacted by the discovery of their affair). 
Initially, when they pass one another in the corridor, their eyes dart away. Afraid. Yet, as time goes by — and suspicions die down — they steal quick glances at one another. They smile as pensive expressions crawl across their faces. 
Both remember what they once had and will always have in their hearts and memories. A perfectly melodramatic conclusion to a scrumptiously delicious tale that leaves the lovers apart but not alone.